Thursday 12th November, 1938
Society
KRISTALLNATCH: THE HORROR FOR JEWS
Hitler
and
Goebbels
found the proper pretext to start an offensive against the jews through a murder that occured in Paris. Actually, the Nazi Party has planned this night a long time ago.
Herschel Grynszpan
On the morning of the 9th of November,
Ernst Eduard vom Rath
, secretary of the German embassy in Paris, died after fighting for his life in the hospital because of seven gunshot wounds. Two days earlier, a Polish teenager of Jewish ascent named
Herschel Grynszpan
fired at him without any known political motive. This murder was spread in Germany by the nazis as a hate crime towards the Aryan race, even Hitler said: "
All jews are guilty of this murder
". But the most of the people with whom we have spoken agree that Herschel committed the murder because of his parents's unfair ejection from Germany at the end of October.
In a meeting with Goebbels, his propaganda minister,
Hitler
takes the reins of the reaction to the attack and decrees the beginning of the riot against the Jewish people.
The nazi's attacks began the early morning of the 9th and 10th November and we think that is the start of the nazisim terror for jews: 7500 businesses, warehouses, bookstores, over 1300 Jewish synagogues, schools and hospitals burned to the hatred of a crowd led and directed by the
Sturmabteilung (SA)
, the
Schutzstaffel (SS)
and the
Hitler Youth
, and supported by the
Sicherheitsdienst (SD)
, the
Gestapo
and other police forces.
One of the concentration camps
The Jews were expelled from the buildings and hundreds of them were attacked before an enraged society that responded to the success of Nazi

propaganda.
The next morning, more than thirty thousand Germans were arrested for being Jews and began deportations to concentration camps like Arbeitsdorf, Buchenwald and Sachsenhausen.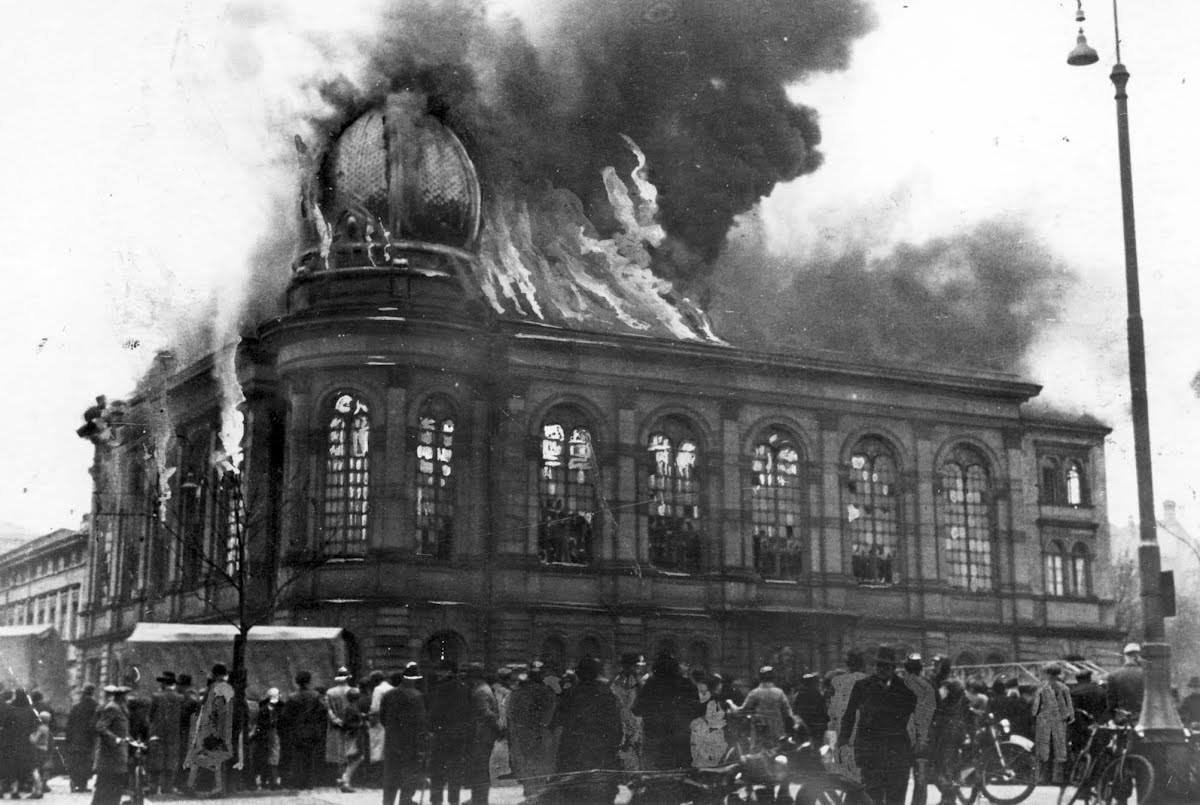 Burned synagogue
T

his is the testimony of one of the affected

jews:
"Yesterday I saw the synagogue burn from the window of my house, when we were going to bed then some men came, took us out to the street, searched the house, took all the things from the cabinets and threw them on the floor; They took my father."